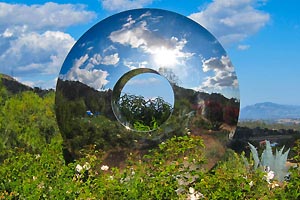 This can be made any size but the standard is 6 foot (2 meters). It is marine grade mirror polished stainless steel. It's omniscience presence dominate any setting. A wonderful focal point to work around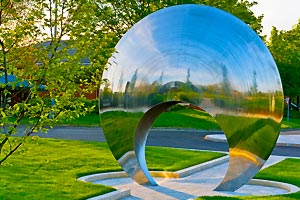 Moongate is a massive 15 foot (5 meter) diameter sculpture of mirror polished stainless steel. It's visual presence is reminder of the higher verities as people interact with it. My latest installation is in Sberbank Moscow.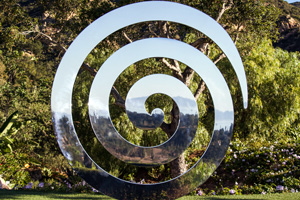 Spiral represents our journey home or getting to our central core. It's a universal image that mirrors, literally, the pathway.
---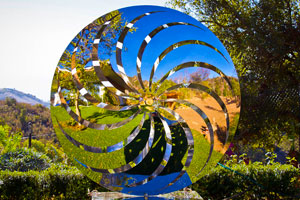 Pinwheel is a dynamic new take on the Steel Eye. It's flowing spiral energy is a delight in any setting..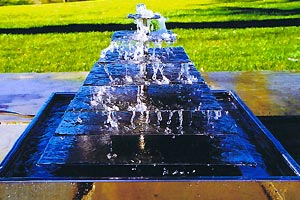 A pyramid shaped set of ten stainless steel square plates, set in a 4 foot (1.2m) square pool. A unique garden fountain. It can be made any size and customized in a variety of ways.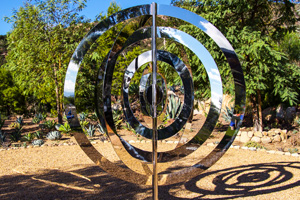 Concentric Circles rotate around the central pole gently in the wind, representing the endless repetition of seasonal cycles. This one stands at around 6ft (2meters), although they can be custom built if required.
---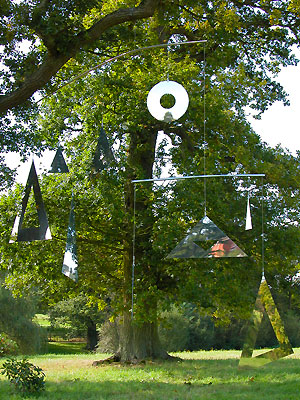 Mobile is a three-bar arrangement of triangular stainless steel shapes which create a kaleidoscope as they move. This excites the space in which it is installed more than any other I know. Never ever the same for more than a second at a time. Mesmerizing as it dances around.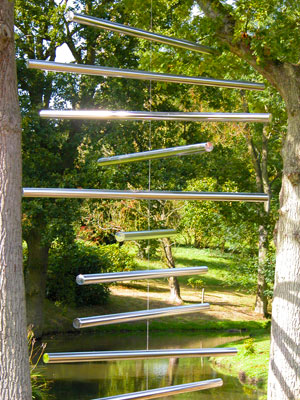 Poles are ten 10 foot (3m) long stainless steel cylinders (1.5 inches/4cm diameter) suspended on a steel wire. They are designed to rotate endlessly and effortlessly. The constant movement is captivating. A silent swirling presence.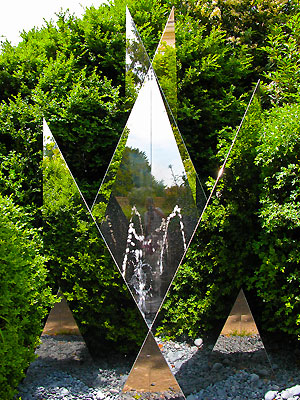 This architectural masterpiece dominates it's setting. You are never quite sure what is going on as the triangles slice through your visual reality. The gentle sounds of the water complete it's garden transforming presence.
---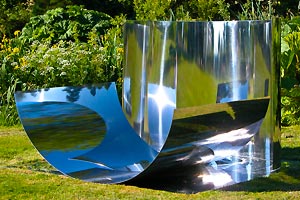 These intriguing sculptures defy visual interpretation as you move around them. They seem to endlessly reinvent themselves as the weather and landscaping around them change throughout the day and night. as magical by moonlight as sunshine.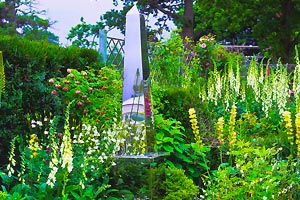 The Obelisk is 6 feet (2m) high, and mounted on a 1.5 foot (.5m) square base – although they can be made in practically any size (contact Allison for details). This obelisk played a key role in Allison's Chelsea Flower Show Garden 2000.
---
Other Sculptures: