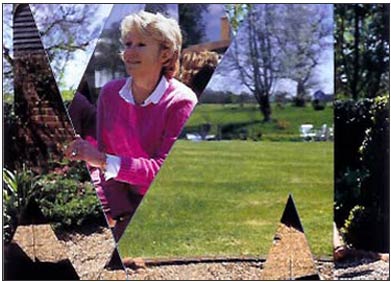 Allison Armour was born in Paris and raised in New York, where she attended the Parsons School of Design, before coming to London to study at the Architectural Association. It was here that her love of gardens, outdoor sculptures and water began to develop.
Then, in 1999, "I was happily doing up my present house and couldn't find a water feature I liked for my own garden – so I decided to make one myself." Since then, she has designed stainless steel fountains, water features, mobiles and sculptures, obelisks, pergolas and even acrylic rowing boats – "a great favourite with children, since they can watch the fish" – and completed large scale corporate commissions across the world.
Her first piece, Aquasphere, was a water filled acrylic globe shimmering in the middle of a water-filled circular dish. "It had a wonderful way of reflecting the world upside down and scattering rainbows all over the walls of the house. Friends loved it, so I took some photographs and sent them to a magazine."
At the time, there were little or no water features using acrylic and stainless steel, so Allison's work was instantly thrown into the limelight, where it has constantly remained.
Hampton Court Flower Show (1999) artworks in Society of Garden Designers
Duchess of Devonshire's 85th Birthday Exhibition (2000) The Chelsea Gardener, London; 7 of my works
Chelsea Flower Show (2000) Allison Armour-Wilson's Garden of Reflection, Silver Medal
House & Garden Fair, Olympia (2000) Double C's exhibited in Stephen Woodhams' Garden
Joanna Booth Gallery, London (2001) Fountain Society exhibition
Southampton Boat Show (since 2001) Extreme Exhibitions
Chelsea Flower Show (2001) Allison Armour-Wilson's Xceptional Garden, Bronze Medal
Art on Show, Air Gallery, Cork Street, London (October 2001)
Chicago Flower & Garden Show (2003) The Chicago Garden
Boston Garden Show, MA (2005)
Urban Gardens, Olympia (May 2005)
Moya Bucknall Fine Art, Solihull (2004-2005)
Hampstead Garden Center (Winter 2004-2005) Aqualens
Highland Gallery, Carmel, CA (Autumn 2005-2009)
Hart Gallery, Palm Desert, CA (Autumn 2005-2009)
Hotels and Restaurants
Four Seasons Hotel, Orlando 2013
Hotel Sofitel Le Louise, Brussels, Belgium
Lygon Arms Hotel, Broadway UK – Mesa Fountain
Whatley Manor Hotel, Malmesbury UK – Aqualens
Cotswold Hotel, Cotswold UK – Aqualens
Summerlodge Hotels (Cape Town, South Africa, Dorset, England) – Aqualens and Obelisks
12 Apostles, Cape Town, South Africa
Midi Station Restaurant, Brussels, Belgium
Billesley Manor, Alcester UK
New Mandarin, Berkley Square, London – Aqualens
Hotel Setai, 5th Avenue, NYC
Mriya Resort and Spa, Crimea – Star Sculpture
Holiday Inn Dubai Festival City, Dubai
Hospitals
St Thomas' Hospital, London – Aqualens
Southampton Hospital, Southampton – Aqualens, stainless steel spheres, courtyard special commission – acrylic & stainless steel "Sails" sculpture
Evesham Community Hospital, Evesham
Exeter Hospital, Devon
Bedford Hospital, Bedford
CHASE Hospice, Bedford
St Catherine's Hospice, Crawley
Trepassey Residential Care Home, Heswall, England, UK
Mt Nittany Medical Center Healing Garden, State College PA, USA – Aqualens
Goleta Valley Cottage Hospital, Goleta, CA, USA – Raised Aqualens
All Seasons Hospice Garden, Surrey UK
Schools and Universities
University of Southern Florida, Tampa, Florida, USA – Steel Eye
Broomsgrove School, Worcestershire UK
University of Oklahoma, Norman, Oklahoma, USA – Aqualens-based design
Sberbank Corporate University, Moscow – Steel Eye, Moongate, Concentric Circles
State University Moscow – Special Commission
Walton Oak School, Walton-on-Thames, Surrey UK
Corporate Headquarters and Commercial Spaces
Frimley Business Park, Surrey, England 2013
BMW Showroom, Oxford UK – set of 3 fountains up to 3 meters diameter
Cilloni Verdi, Emilia Romagna, Italy – Aqualens for HW opening gala
Barratt Homes – artworks for show house gardens
Richard Noble Landscapes – artworks for show flats
Sixt car hire headquarters, Germany – Aqualens
The Point, Panama City, Panama – Special Commission
Shopping Malls
Crocus Shopping Mall, Moscow 2012
Monroeville Mall, Pennsylvania
Exchange @ Pocket Park, Fort Lauderdale, FL – set of 3 Aqualenses in Wall of Water feature
Casinos and Nightclubs
Elevate Nightclub, New Delhi
MGM Mirage, Las Vegas
Sammy's Caliente, Las Vegas
Other
British Embassy, Luxembourg – Aqualens
Heritage Museum, Sandwich, MA – Aqualens
Crystal Serenity cruise ship – special Aqualens
Newspaper and Magazine Articles
Newspaper and Magazine Articles
Sunday Times Style (2)
Gardens Illustrated (3)
House & Garden (4)
Financial Times (3)
Country Homes & Interiors (2)
Elle Decoration (2)
Garden Inspirations
New Eden (2)
Homes & Gardens (6)
The London Magazine
The English Garden (4)
Garden Design (US) (2)
Rosennyt (Denmark)
Country Life
Garden Answers (2)
Daily Telegraph (7)
Evening Standard (3)
Sunday Express Magazine
25 Beautiful Homes (3)
Daily Telegraph Magazine (2)
Garden Design Journal (US)
Times Magazine
Washington Post (US)
Eden (Germany)
Architectural Digest (Germany)
Your Garden
Gardens Monthly
Independent
Mail on Sunday
Farmers Weekly
Sussex Life
Santa Barbara Magazine, Home + Garden, 2016
Homes & Garden, September 2000
The English Garden, April 2001
TV and Radio
BBC 2 – Homefront in the Garden
ITV 1 – The Richard and Judy Show
BBC 2 – Real Rakeovers
Channel 4 – Chelsea Flower Show Week (2000 & 2001)
ITV 1 (Meridian) – Live Interview in Chelsea Flower Show Week
Garden Answers
MTV Live Interview
Sky News – voted me best garden at Chelsea Flower Show 2000
Russian TV – live interview
Swedish TV – Live, Radio 4 Worcester – Live
Books
Garden Design by John Brookes
Das Garten Der Kunstlerin by Charlotte Seeling