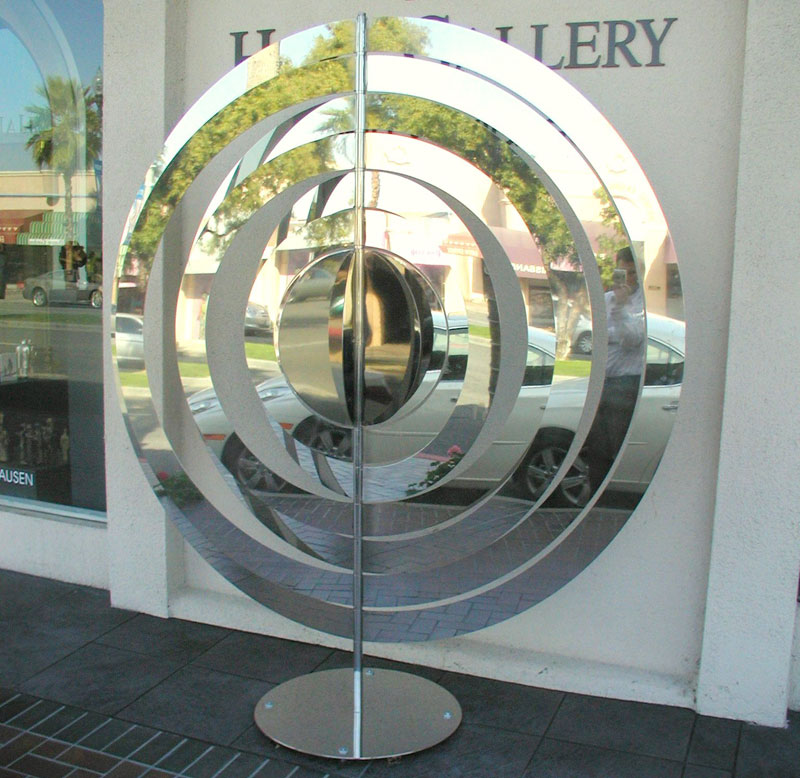 05 Jul

If Mother Nature had a Welding Torch

Hi everyone, today I thought I'd share a wonderful article that was written (about me) by Avary Stone:
Allison Armour: If Mother Nature had a Welding Torch
Since the dawn of the Industrial Revolution, there has existed a growing disparity between metallic constructs and the natural domain. Allison Armour's contemporary garden artwork manifests the harmony that exists between these two entities. The result? Large-scale metal artwork with the capacity to unite the chasm between organic and inorganic matter.
The Paris-born New Yorker discovered her love of gardens and outdoor sculptures whilst studying at the Architectural Association in London. Some time later, after particularly bad storm wiped out some a number of trees in her garden, she searched for outdoor sculptures that embodied sleek modern feel to compensate for the broken appearance. Having no such luck, she decided to design and commission them herself, a decision that led to the flourishing business she runs today.
Allison made a splash at the Chelsea Garden Show in 2000 when she debuted her landscape vision she called Garden of Reflection, a plot that earned this new comer a silver medal, and left the seasoned competitors soaked. Judges, contestants, and attendees were floored by her novel approach in which she juxtaposed modern, lustrous sculptures with traditional gardening. Since then, she has been commissioned by the likes of University of Southern Florida at Tampa, BMW Headquarters in Europe, Southampton General Hospital, and more. After the statute was enacted, the University of Southern Florida at Tampa began offering an honors course to explore the effect the sculpture poses on campus social life, a favorite class amongst the students.
This sculptress' artistic vision is palpable in her most popular water feature, which she coined "Aquasphere"; a clear acrylic sphere, seemingly floating in the center of a mirror-polished stainless steel dish, continually cascading water parallel to the rhythm of life. Another one of her geometric design she calls "The Eye" is a stainless steel cylinder with a central portal that allows one to peer through to the other side. Armour's large-scale metal works utilize transparency and reflections to create the sense that the sculptures are an enhancement of its surroundings.
The artist's newest installment, a 4-foot transparent sphere gently overflowing into a 9-foot reflecting dish, will be featured at the Four Seasons Resort in Orlando set to open in early 2014. Having previously manufactured a sculpture for Panama City, Armour's artistic skills were sought after a second time and, soon, a second mirror-polished sculpture will adorn the city. Next, she will pitch a project for a piece that will reside in Greenwich Park, UK. Drawing inspiration from the famed tale Alice and Wonderland, the piece will feature a mirror-polished wormhole 12-foot deep buried in the ground with a 12-foot glass sheet resting atop so onlookers will get the experience of "falling down the rabbit hole."
Where can you find the famed artist now? Despite all her international demands, she chooses to spend the majority of her time in Santa Barbara. These famous fountains, which can be found on any corner of the earth, are now manufactured right here in California.
Even though Armour's water features are a hot item for companies looking to enhance their aesthetics, a large number of clients are private parties seeking a contemporary addition to their outdoor setting. On an occasion, I had the privilege of visiting Allison's garden, a site that is nothing less than a fluid oasis. Amid the bounty of blossoming plantae, there is a gleaming counterpoint, "The Eye", standing erect, refracting light, and scattering miniature rainbows that dance across the garden. The sculpture serves as a catalyst which emanate excitement to the beholder.
It is clear that Allison's designs typify the equilibrium that exists between the living and nonliving worlds. While the elements of these stainless steel sculptures will stand the test of time, their reflections will change as mother nature takes her course.