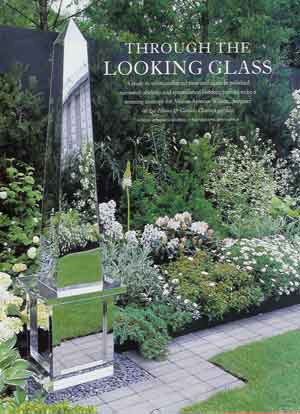 Americans always think big. The theory goes that if you're a rookie you pitch for the major league, and New Yorker Allison Armour Wilson is no exception. A self confessed housewife with no horticultural training, Allison has made the leap from tending her own plot in Sussex to creating an award-winning garden for the Chelsea Flower Show. Having lived in England for 28 years, she is aware that the show can make or break new talent. "It was a privilege to be accepted," she says, "but I knew that if I failed, I'd fail very publicly."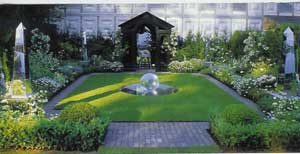 A year ago, Allison had thought no further than designing sculptures and water features for her own garden. But when she showed plantsman Peter Rogers some of her garden designs, he suggested that Chelsea 2000 would be the ideal testing ground. With nine months to go, Allison finally received notice that she had secured a plot at the prestigious annual event. Gardens for Chelsea are often years in the planning and cost tens of thousands of pounds to put together. As neither time nor money were in Allison's favour, a clear, decisive design, which could be completed for £10,000, was vital. In fact, Allison's plans were so simple that fellow garden designer David Bailey had his doubts. "I told her she needed to add more to the concept for a major event like Chelsea," he explains. But Allison knew that keeping things simple would have the impact she sought. It was a view shared by Homes & Gardens editor Matthew Line, who was so impressed by Allison's work that he gave her project the magazine's backing. It proved to be a faith well founded. The Garden of Reflection caused a frisson of excitement at Chelsea, where Allison's decision to juxtapose modern sculpture with traditional planting paid off.

Contained within the formal cedar hedging was a "garden room" with symmetrical herbaceous borders planted in restful shades of white. These borders gave on to a central lawn in which a glass sphere, dubbed an "aqualens" by Allison, had water continually pumped over its surface. The theme of reflection was carried still further by the frost-hardy mirrored acrylic obelisks that were set in each corner of the garden.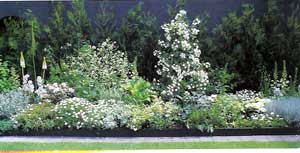 Despite all the hard work that Allison has put into her sculpture designs, she acknowledges the garden would have remained a pipe dream were it not for all the help she received with the plants. Discovering she had a place at Chelsea so late in the day induced a hasty mass bulb planting. With limited funds for flowers, Allison was relying on home-grown specimens until the Reigate Garden Centre and The Chelsea Gardener stepped in with kind donations. She then persuaded Glass Houses' architect Jeffrey Gold to design a classic summer pavilion to add focus to the final plan.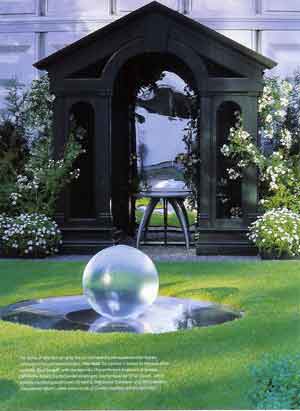 Not a bad first effort you might say, and that's just what the judges thought when they awarded the Garden of Reflection a silver medal. Having reached the major league, Allison already has ideas for Chelsea 2001 – there is mention of a rose garden with whispers of David Austin joining the ranks. If that's the case, this is definitely one housewife to be reckoned with.